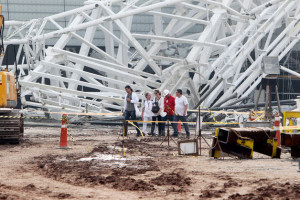 At less than six months to the opening of the next FIFA World Cup, the question arises again and always whether Brazil is ready to host a competition of this wingspan. After his last evaluation visit, the Secretary General of FIFA, Jerome Valcke, was optimistic. But it is clear that much remains to be reviewed.
Stadiums still not ready, construction sites at standstill
While the deadline of 2014 World Cup is fast approaching , the country of Pele continues to accumulate concerns. The first concerns relate to stadium renovation and construction sites.
During his assessment visit, FIFA did not hide their concern about the status of some work. Expected to be ready by end 2013, the Sao Paulo stadium, which will host the opening ceremony in June, is still not ready. Blame to the collapse of a metal structure that has killed two workers late November. Outside the venue, five of the twelve stadiums selected for the competition are not yet completed. One can cite the example of the stadium Arena da Baixada of Parana. At a press conference after the evaluation visit, Jerome Valcke has threatened to exclude that venue from of the list of those that will host the World Cup matches.
Other concerns relate to yards off. This is the example of the renovation site of the airport of Manaus, in the Amazon. And for this same city, justice has just stopped another construction site of the World Cup, that of a training center. Reasons mentioned, non-compliance with normal working conditions.
Telecommunications network failing
That's another issue that could undermine Brazil's preparations for the World Cup. According to the daily O Globo, it is expected an increase of over 65% mobile traffic, internet included. But it is feared that the existing network is not enough. At last, the mobile Internet network might not hold up in the competition and will regularly falter. Since Brazilian phone networks are already overloaded and victims of underinvestment. However, a solution is being found to this problem insofar as it was announced that the five national operators are currently investing a little less than 80 million Euros in emergency in the sector.