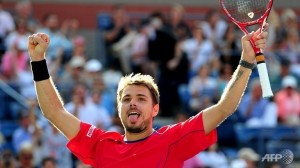 Stanislas Wawrinka reached the final of the Australian Grand Slam. The Swiss eliminated Czech Tomas Berdych in the first semi-final men's singles. On a series of 6 consecutive wins during his face to face with the World No. 7, Wawrinka has extended his series on Thursday after a match of 3 hours 31 min won over 4 sets, 6 /3, 6/7 [1-7 ] , 7/6 [ 7-3 ] , 7/6 [ 7-4 ].
"It's incredible! I'm so happy to be here, right now, to win this game and be qualified for a Grand Slam final for the first time in my career. I work every day to try to win these games, to try to play a Grand Slam final. And tonight it has come true and I 'm really happy,"said Wawrinka who will try to extend his happiness in Sunday's final.
Executioner of triple defending champion Novak Djokovic in the previous round, the World No. 8 will cross the racket with his compatriot Roger Ferder or Spaniard Rafael Nadal. The top two ATP rivals will compete this Friday for the 11th time in a Grand Slam.