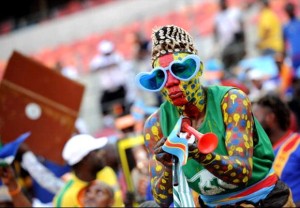 Quarterfinals Posters of the African Nations Championship 2014 are known. Mali-Zimbabwe, Morocco-Nigeria, Ghana-Congo, Gabon-Libya are the combinations. This after a group stage very eventful. Back on this very exciting first round.
Kicked off since January 11, CHAN has reached the quarterfinals. But before we get there, 16 teams have enjoyed the South African public and viewers in the continent. Surely the decision of FIFA to finally recognize the competition has topped its level. A total of 59 goals were scored in the first round with an average of 2, 6 goals per game. Against 46 goals in the previous edition in 2011.
The prize for the best attack is for Nigeria who scored 8 times at least 3 goals in their last two games (4-2 against Mozambique and 3-1 against South Africa).The worst attack returns to Ethiopia who have not scored a goal. However Zimbabwe has registered one goal in the pools but qualified for the quarterfinals. And only three games have ended in a goalless 0-0 score.
South Africa, Ethiopia; disappointment!
South Africa is the biggest disappointments of this CHAN 2014. Ingloriously eliminated in the first round yet with a beautiful begin against Mozambique 3-1. Thereafter, the of men Gordon Igesund were very powerless against Mali and Nigeria. This angered a lot the authorities of the country starting with Fikile Mbalula, Minister of Sports. Ethiopia also considered as one of the tournament favorites, fell in the first round without scoring a goal.
Surprises are obviously Burundi and Mauritania. For their first major competition on the continent, Swallows and Mourabitounes have tried hard but in vain. Even eliminated before the quarterfinals, they caused a lot of problems to their opponents. Burundi have just lost their ticket to the second round during the last day on Wednesday against DR Congo.
Individually, even eliminated with South Africa, Bernard Parker still holds the status of top scorer with 4 achievements. A status which should not take long with players at his heels as Nigerians Ejike Uzoenyi and Efeanyi Ede authors of 3 goals each.