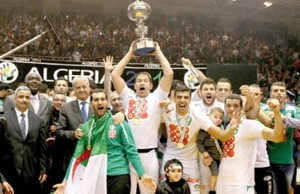 African handball has new champions. After Tunisia, which has returned to the continental title since 1976 with the ladies at the expense of DRC in the final, Algeria dethroned Tunisia, 25-21.
The curtains fell on the 21st edition of the African Cup of Nations handball held in Algeria from 16 to January 25.
A few hours after the coronation of Mouna Chebbah and her teammates, Tunisia had the opportunity to make a double with their male selection just like in 1976. But Issam Tej and his friends have stumbled on an Algerian selection supported by a white-hot public and especially a Slahdji Abdelmalek almost impassable.
Supported by 10,000 spectators at the Harsha room, foals of Rida Zegueli start the meeting on fire. But the double champions of Africa do not allow themselves so far behind. Halftime occurs on the narrow score of 12-11 in favor of the Greens.
After the break, Algeria enjoys a Tunisian flaw to get a 3 goals mattress. Like their last bastion Slahdji Abdelmalek, Greens resist Tunisian assaults and retain the benefit of three goals until the end of the game they won, 25-21 .
Algeria dethrones the double title holders and revives the continental handball trophy 18 years after their coronation in Benin (Cotonou 1996). This is "a feat!, " said enthusiastically Zegueli Rida that in the wake of this seventh continental title is projected on the challenge in the World Cup. The African champion coach hopes to have the means to " prepare the team " for this next appointment.
Besides Algeria, Tunisia and Egypt, third overall, represent Africa at the next World Cup to be held in Qatar in 2015.
General ranking in 21st Afcon Handball gentlemen.
1 Algeria
2nd Tunisia
3rd Egypt
4th Angola
5th Cameroon
6th Morocco
7th Congo
8th Senegal
9th Gabon
10th Congo
11th Nigeria
12 Libya.