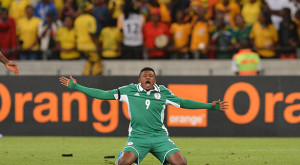 Crazy crazy crazy match between Nigeria and Morocco on Saturday for the first quarter-final of the African Nations Championship 2014. Obviously , the premium of $ 100,000 has motivated the Super Eagles who defeated the Atlas Lions (4-3) after extra time. It was hard and spectacular.
After the two teams began shyly, Morocco takes the lead after a half an hour of game with the opener by Moutouali. Moments later, Iajour through a superb free-kick aggravated the scoring. But before the break, the Lions of the Atlas prominent in the first part, added a third goal. An achievement by Moutouali who scored twice.
[youtube]http://www.youtube.com/watch?v=ORTQLxMv1nk[/youtube]
The fantastic rise of Nigeria!
Best attack in the tournament after the first round (8 goals), Super eagles suffer. But the talk of Coach Stephen Keshi at break remobilized his troops. Uzochukwu sounds revolt once. He is quickly followed by Rabiu Ali and Nigerian fans start to gain hope. Ejike Uzoenyi finally pulls the equalizer in the final minute of regulation time. They tabke the way to the extensions.
Now it is Morocco who lost their football. Both teams get many opportunities. After a first half of extra time tied (3-3), Nigeria qualified for the semifinals after Abubakar's goal in the dying moments of the match. Final score 4-3 and Stephen Keshi is still en route to a never achieved double Afcon- CHAN.