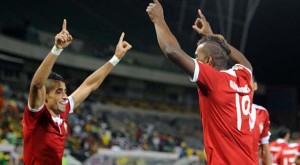 It is Libya who will play the semi-finals of the African Nations Championship 2014. In their duel against Gabon, the Knights of the Mediterranean have released their game after a shoot on goal (4-2, 1-1 after extra time).
In a much closed meeting, it took until the penalty shootouts to know make a decision between Libya and Gabon. After a goalless frist halftime, Javier Clemente 's men took the lead after the reopening. Omar Abdelsalam, very clever lobed Bitseki. Gabon suffer and do not show skills before returning to the score.
They will face Zimbabwe !
But Daniel Cousin decides otherwise. Came into play, the top scorer in the CEMAC tournament opens his account in the tournament with a penalty converted in the 75th. Equality after fulltime will also update after 30 minutes of extra time. At the meeting of the shootout, Alain Djissikadie and Bonaventure Sokambi miss their shots. The Libyan strikes are more skilled (4-2).
In the semifinals, Libya will face Zimbabwe who eliminated Mali Saturday (2-1). We will know the newest member of the semifinals later after the match Ghana – Congo (18 h 30 GMT).