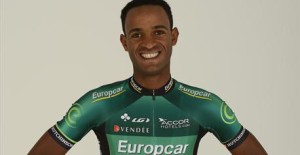 Africa Top Sports have launched their second edition of the Africa Top Sports in December 2013.
And as the editorial of Africa Top Sports reported earlier, the athlete to succeed Daniel Tekleheimanot (Eritrean cyclist), winner of the first edition, is no one but his compatriot Natnael Berhane.
But to have an idea on the feelings of the winner of the recent Tour du Gabon after being the choice of Africa Top Sports fans around the globe, Africa Top Sports international journalist Steven Lavon held an interview with the African star cyclist via Skype.
"To come up as Sportsman of the Year at Africa Top Sports ahead of icons such as Didier Drogba, Yaya Toure and Samuel Eto'o is extremely great for me," said the athlete enthusiastically.
The video of the interview here!