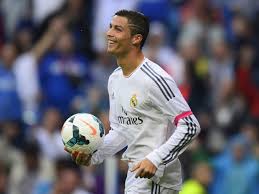 This is the first time he played at the Santiago Bernabeu since his coronation in Zurich on January 13. Cristiano Ronaldo introduced Saturday his Ballon d'Or 2013 to the Real Madrid public before the match against Granada in La Liga. Celebrated, the Portuguese did what he does best on the field.
While Real Madrid was in difficulty (0-0 at halftime), the former Manchester United scored the first goal of the match after a nice pass from Modric. Before the end of the first period, he sees the opponent's goal parade him out on a bicycle. Moments later, Karim Benzema added a second goal to improve the success of the Merengues.
Beating Granada CF, the club took the lead with 53 points.
The pressure is on Barcelona who are currently in crisis following the resignation of their president and the possible departure of Lionel Messi for the PSG (51 points) and Athletico Madrid (53 points) also.
Meanwhile, CR7 enjoys this ranking!