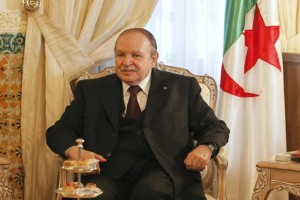 Algerian President Abdel Aziz Bouteflika, sent a congratulatory message to the national handball team that was awarded the trophy of the 21th edition of the African Cup of Nations.
"It is with unspeakable joy that I greet the prowess you have done to your against your Tunisian brothers clinching the African Cup of Nations of handball " reads the message of President Bouteflika.
"You have to offer your audience a joy and love with the little ball picking with feat and deserves the continental title and qualification for the World Cup. As normal, you just achieved a valiant feat thanks to the level of excellence of your performance, and your iron will, driven by love for country and the strong ambition to climb above the national colors " , adds the head of state in his message.
"I want to congratulate you for the great feat that you come just to realize by offering joy to Algerians, pledging the Almighty to grant you every success and help you win more victories in the finals the World Cup, " says the head of state in his message.
The Desert Foxes beat Tunisia in the final (25-21).
However, in the women, the disappointment was great. They not only they failed to reach the final, but they will not participate in the World Cup of the discipline in Qatar in 2015, as they were beaten in the ranking game by Angola.