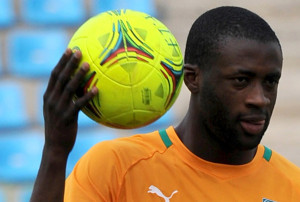 The Ivorian midfielder of Manchester City, Yaya Toure could stop his international career after the 2014 World Cup.
"I'll see what will happen in the World Cup. I think retirement is a very difficult decision and I want to take it at the right time. But I have not yet decided when it will happen," admitted to Daily Mirror the former Barcelona who is determined to beat Barcelona in their Champions League knockout clash.
"I want to leave on a high note at the right time. The generation of players that we have have always been considered special, so we all want to offer something good to remember," added the triple African Ballon d'Or who has appeared over 80 times for Côte d' Ivoire.
Yaya Touré had already asked about his international future after the final of the African Cup of Nations 2012 lost to Zambia.