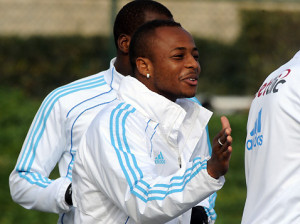 Finally a great news for Olympique de Marseille! The comeback of Andre Ayew! The versatile player of the Phoenician club should no longer delay to reinstate the workforce of José Anigo.
Injured at his left knee since the end of November, André Ayew is on the way back. Expected for early February, the Ghana international had on Monday afternoon his first session of collective workout.
According to La Provence, it is quite possible to see Ayew on the pitch against AS Saint-Etienne on February 16 as part of the 25th day of Ligue 1 that the two teams compete at Geoffroy-Guichard.