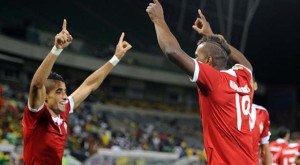 It took a long session of penalties to decide the first finalist of the African Nations Championship 2014. Libya finally won after an endless series 5-4 thanks to the last shot of his guardian Nashnoush.
Javier Clemente did not mince his words to the CAF when it came to talk of the bad programming of the semifinal match of his team. After the victory against Gabon Sunday, the Knights of the Mediterranean had made 8 hour flight before facing Zimbabwe. So, fatigue has greatly been felt among the men from Eastern Africa. Refusal of the game, waste of time, lack of creativity, these are the ingredients of this game.
Result: two half-times and a dull goalless 0-0 score. During extra time, Zimbabwe, the more enterprising team of the match, tried everything possible to take advantage. But in vain. Finally, the Libyans show more skillful in the penalty shootout, scoring 5 shots to 4 for the Warriors.
The second finalist will be known after the match Ghana – Nigeria at 18h 30.