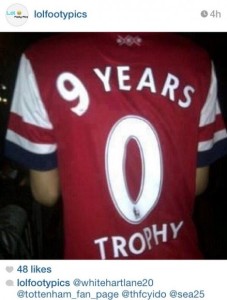 Relations between Emmanuel Adebayor and Arsenal are unlikely to settle anytime soon. While the Togolese striker will be most followed on Wednesday in Premier League in the shock of the 23rd day between Tottenham and Manchester City, here is a controversy that swells on social networks.
Former Arsenal player, Emmanuel Adebayor has attracted the wrath of Gunners fans. He has simply "Liked" on Instagram (@ sea25 ) a photo showing a jersey of Arsenal backing the messages '9 seasons , 0 trophies". Arsenal fans have naturally gone astray on the account of Togolese following this new provocation…
Speaking of provocation, this goal celebration in 2009 when he had just left London for Manchester City (see video below). Since then, relations between Adebayor and Arsenal have never been like the olden days. Serial scorer, fans had a song dedicated to him, "Adebayor, give him a ball and He will Score".
[youtube]http://www.youtube.com/watch?v=7657Hb27K4c[/youtube]