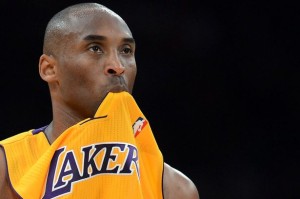 He had confided that he does not deserve to be in the All Star Game because of his low time spent on the court.
In the infirmary of Lakers since April 2013 and returned to competition after 19 games of the regular season, Kobe Bryant had to mark a new stop due to an injury on Dec. 17. We speculated on a comeback after six weeks of treatment. Except that the return of the Black Mamba is postponed indefinitely.
"It is not a matter of days, but weeks," said yesterday the doctor of Lakers after examining the rear superstar of the Angelinos.
We see an extension of three weeks absence. This ends the suspense about his participation in the 63rd All Star Game. "It's hard," says Kobe disappointed not to be in the rotation of a franchise in distress: "I am disappointed and disgusted to have to wait three weeks … It's like an internal swelling… It is a wound I cannot really measure, so I have no idea on what it is supposed to make me feel."