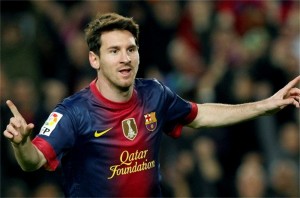 Nasser Al- Khelaïfi as Africa Top Sports. com reported yesterday expressed himself in l' Equipe.
And the president of Paris Saint- Germain did only talk about the transfer of Yohan Cabaye, but also contacts with Eden Hazard and Paul Pogba.
And of course the rumor of the arrival of Lionel Messi, the star of FC Barcelona!
An estimated 250 million Euros transfer!
Note this answer:
"250 million at least, it is an expensive player. If we had no limits, we would bring Messi If you have the money to get him, make him sign a contract and bring him to us! "
Yet a transfer window already up!
$ 3.7 billion (2.7 billion Euros) for more than 12 300 transactions!
The figure has fallen down!
Football knows no crisis!
They have just been released by the FIFA.
The number of transfers increased slightly compared to 2012 (+4%), however the amount of the transfer is up to 41 %. Brazil remains the most active country with 746 players transferred to Brazil and 656 who left the country.
Is England on top of expenses with nearly 750 million Euros?