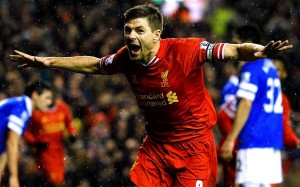 Premier League days on Tuesday and tomorrow Wednesday in England. And Liverpool faced Everton Tuesday for the 222nd derby of the Mersey. Toffees suffered four goals from Luis Suarez and co without pulling any out. It is Steven Gerrard who put his team ahead with a headed goal after 21 minute of play.
Then the time for Daniel Sturridge to make his show. The England striker scored twice including a beautiful lobe (27th minute and 28th).
Liverpool led their 3-0 cushion to the break before Luis Suarez improves the advantage at the resumption.
Goals video!
[youtube]http://www.youtube.com/watch?v=mvkum1foGuY[/youtube]