Would the talent of Usain Bolt be of divine origin? That's what believes the sprinter himself when he refers to his past. In his autobiography released on January 15, the fastest man in the world, a true believer, did not hesitate to link today 's success to the will of God.
Back on his serious car accident 5 years ago, in 2009, Bolt is convinced he owes his life to Heaven. "A higher power had allowed to remain alive. God needed me fit and healthy to follow the path he had traced for me," said the Jamaican.
Why are blacks the absolute masters of the sprint? Usain Bolt invited to the meeting of Areva, has answered this question in his autobiography. According to him, their Jamaicans owe their exploits to the culture that characterizes the sprint. Like the Brazilians who have football as an integral part of their culture and habit. That is why the future talents are detected from the benches in school competitions.
A thesis that is opposed to that of his idol, American Michael Johnson (quadruple Olympic gold medalist) explains the domination of the sprint by blacks by a "gene of slavery" that would result from the selection which indulged slave dealers in respect of their labor in West Africa, and the elimination of the weakest during the Atlantic crossing.
Speaking of his childhood, the world champion of 100 meters elected Athlete of the Year remembered his past to run in the countryside or on the grueling water fetching imposed by his father. In short, he was hyperactive.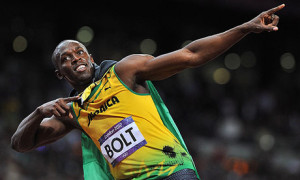 And what about his weaknesses? Usain Bolt does not hide. He admits to being lazy (he chose to leave the 400 meters, while his coach wanted to align in this distance) and does not hide his interest in pretty women. And this sometimes grows to infidelity. Other defects of the guest star in the first edition of the marathon of Gabon, is partying and fast foods.
But the bottom line is that none of this prevents him from running and break records. And finally nothing can go against the will of God, isn't it?