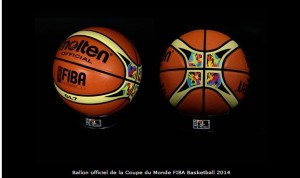 The four selections that will complete the group of 20 teams for the Spanish World Cup will be known on February 1 with the assignment of Wild cards. With the approach of Wild cards assigning and group formation for World Cup Basketball Spain 2014, FIBA puts us a little more in the context of the competition by unveiling the official ball.
"We are very pleased to announce this very special ball that will be used by the best players and the best teams in the world at the World Cup FIBA basketball this summer," said the Secretary General of FIBA and member of the International Olympic Committee (IOC), Patrick Baumann on the FIBA website.
The Spanish Gum 2014 marked a turning point in the history of the World Cup FIBA basketball. Indeed, for the first time, Fusion Corporation, partner of FIBA, has drawn up a balloon especially for the event."This ball is unique because it incorporates the look and feeling of the tournament, continued Patrick Baumann. It brings to life the essence of the logo. You can see the hands that symbolize players fighting for the ball. Bright colors are the ones that best represent the championship".
The draw for the formation of groups will take place on February 3 and the finals will be held from 30 August to 14 September 2014. We recall that the USA are the defending champions.