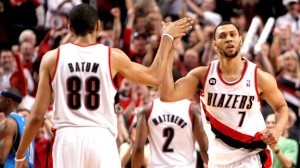 Portland were frightened but kept their unbeaten streak (8 years), at the end of suspense against Toronto at the Moda Center, 106-103.
Boiling at the beginning of the meeting, La Marcus Aldridge (27 pts, 15 rebounds) allows Blazers to inflict a 31-19 to the Raptors and regained the break with a mattress of 17 points (57-40).
In the second half, DeMar DeRozan (36 points-including 30-second period, 12 assists, and 4 rebounds) ignited and lifted the Canadian franchise up. The All Star rear is involved in 22 of the 26 baskets of his franchise after halftime and the Raptors erase a liability of 19 points to take orders 25 seconds to the end of the match, 103-102.
But Damian Lillard (21 points, 7 assists) gives the advantage to his side 11.8 seconds to the buzzer before Nicolas Batum (18 points, 5 rebounds, 4 assists) will seal the fate of this clash on two free throws.
[youtube]http://www.youtube.com/watch?v=hEBML364Tv8[/youtube]