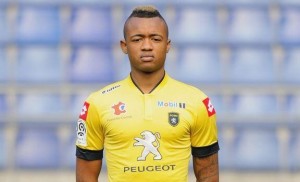 Sochaux defeated Nantes 1-0 Saturday night thanks to a Jordan Ayew very active. Still in the relegation zone, Herve Renard's men still hope to be safe from being pushed down to Ligue 2. And it is also the wish of the Ghanaian player, lent by the Cubs of Marseille this winter.
Asked at the end of the meeting, the younger brother of André Ayew has struggled to hold back his tears as the emotion was so high after this victory as expected.
"It's hard, you know. We struggle every day. Today is a big satisfaction. We need to continue to hope something positive. (…) Coach (Herve Renard) trusted me and I have to make it up to him on the ground. I am very lucky to have a coach like that. I must thank him," said with watery eyes.