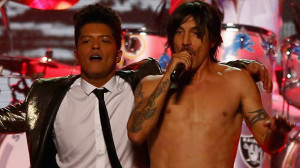 As Africa Top Sports has reported, the Super Bowl is always a great time on the ground, on TV screens with pubs but also with the show of stars.
This year, it is Bruno Mars who assured the show at halftime of the final of the 48th Super Bowl. And not alone but with the Red Hot Chili Peppers.
Not easy to succeed Beyoncé who had delivered a card last year.
But rock stars have done well the show too!
Their show was watched by "more than 110.5 million viewers in the United States."
Bruno Mars, 27 years old, has two albums to his credit, entitled Doo- Whap & Hooligans (February 2011) and Unorthodoxe Jukebox (December 2012).
During the last Grammy Awards, he won the award for "Best Pop Album in 2013".
The grand finale of American football held all its promises even if the Seattle Seahawks have literally humiliated the Denver Broncos to win the first Super Bowl in their history!
The final score! 43-8!
Check it out!
[youtube]http://www.youtube.com/watch?v=67Sw9BdhIPQ[/youtube]