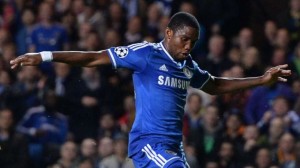 This is a huge surprise!!!
Manchester City who took the head of the Premier League last week for the first time in years just fell at home against Chelsea!
So, Arsenal took the lead of the English championship with 55 points. Manchester City and Chelsea are second with 53 points!
This promises a special end of season!
It's Ivanovic who scored the only goal of the match.
Eto'o found the bar late in the first period and could have brought the score to 2-0.
Yaya Touré is down. Samuel Eto'o who was on a cloud entrusted yesterday: "I have nothing to show. I'm Samuel Eto'o. And I do not think I have to show anything to anyone (…). I do not belong to the group of players considered good, but the group of big players "(…) Manchester City must win. And we, if ever the opportunity arises, we will not say "no". As says the coach, it is not the objective of the club this year to win anything. The first year, he wants to build a good team. And next season, we must demand titles.
I had the chance to play in Spain, we won. I had the chance to play in Italy, we won. And I hope that, by the name of God, I will also win a title in England. And I think my career will be really complete."
[dailymotion]http://www.dailymotion.com/video/x1b2c9o_manchester-city-0-1-chelsea-goal-branislav-ivanovic_sport[/dailymotion]