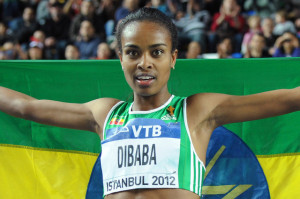 It's not necessarily the one we were waiting there. But in Ethiopia, a Dibaba can hide another. This is Genzebe, the sister of Tirunesh, multiple Olympic gold medalist and record holder in the 5000m, who makes headlines. She set a new world record in the 1,500 room by winning 3 min 55 sec 17 last Saturday in Karlsruhe, Germany.
Genzebe lowered more than 3 seconds the previous record on the distance belonging to Russian Elena Soboleva since February 18, 2006 in Moscow. The latter had established a time of 3min 58s 28 c.
Still in Karlsruhe, Kenyan Nixon Cheseba (3:37.02) produced one of the three best performances of the year, with the German Nadine Hildebrand on 60 meter hurdles (7.91) and the Dutch Sifan Hasan 3000 m (8:45.32).
[youtube]http://www.youtube.com/watch?v=aL_mRBl8LVA[/youtube]