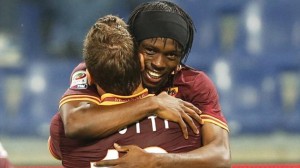 Gervinho continues to shine in Rome. In the semi – finals of the Coppa Italia on Wednesday against Naples, the Ivorian international scored the winning goal (3-2) at Ollimpico. And it was his second in the game.
Two players have really splashed the meeting. Francesco Totti (37) and Gervinho (26) regaled the Roman public under a bouncing game. The former Gunner scores (13th) on a pass from Totti. The score was improved to 2-0 in the 32nd minute with a magnificent goal on a shot from 25 meters by Strautman.
Stung, the Neapolitans reacted. Mertens and Higuain equalized after the break.
Associated with Rudi Garcia, the duo Titti – Gervinho allows Roma to take a considerable option for the final. Always served by Totti, the Ivorian beats Reina at two minutes to the end. The return leg will be played next Wednesday at the San Paolo Stadium.
Check out goals!
[youtube]http://www.youtube.com/watch?v=V41IlpPXOks[/youtube]
[youtube]http://www.youtube.com/watch?v=EWitj6N36DE[/youtube]