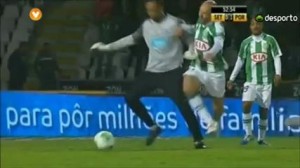 Have you ever seen a goalkeeper who is good at both keeping and dribbling? If so, great. But if not here is one. His name is Jose Contreras and comes from Venezuela. He plays for Deportivo Tichara.
During the meeting between his club and ACD Lara (0-0) in the Venezuelan league, the young porter was the author of a gesture that many coaches do not like to see their guardian do, because too risky.
Indeed, José Contreras, already lucky after a tackle and a hazardous output has allowed an exceptional small bridge before an attacker came to pressing. While the gesture is class, it could cause a stupid goal.
Watch!
[dailymotion]http://www.dailymotion.com/video/x1bclqy_le-petit-pont-insense-d-un-gardien-de-but_sport?start=3[/dailymotion]