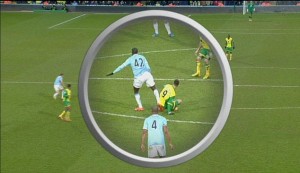 Manchester City may be subject to a severe punishment. The English club could do without their backbone for some of the upcoming games. Yaya Toure is in the viewfinder of the FA (Football Association) for a bad move during last Saturday's game against Norwich (0-0).
The former FC Barcelona player is believed to have consciously underfooted Ricky van Wolfswinkel, the Dutch striker of Norwich. At the side of Manchester City, they are not afraid to believe Manuel Pellegrini, the manager: "I do not see what you mean and I'm not worried about it."
However at  Norwich, no doubt that the Ivorian is guilty. "I did not see the action but Richy has a very strong character. He is accustomed to complains," said the coach, Chris Hughton. Yaya Toure could face three-game suspension if found guilty.