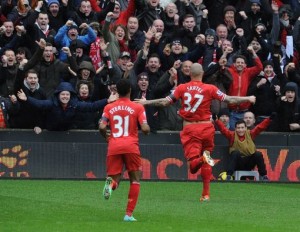 From Beijing to Los Angeles, via the Cape, Rabat, Yaoundé, Paris, football is lived like madness. Supporters are desperate to unleash their passion. Thus it is not uncommon to hear the most incredible stories.
Liverpool FC v Arsenal has just made a new man dead. Saturday's loss of Arsenal to Liverpool (5-1) has not had only sports consequences. It crossed the Atlantic to cause damage somewhere in East Africa. And it is in Kenya that the story happens. A supporter of Gunners would have killed a fan of the Reds at the end of the meeting. The offender was furious after the final result.
According to the Kenyan website standardmedia.co.ke which made public the news, a man, unable to control his anger, would have hit a supporter of the Reds to death outside the bar where the two men watched the game.
The local police have not yet tracked down the culprit but began a manhunt. In November, a police officer was arrested after shooting at close range a friend after a Premier League match between Arsenal and Liverpool.