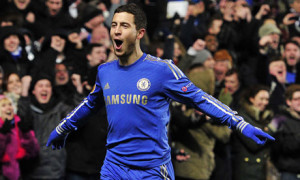 Eden Hazard is the man who rises!
He was fabulous this weekend with Chelsea against Newcastle. The Belgian's hat-trick allowed his club to take the lead of the English Premier League.
He remains very modest as can be read in the interview he has granted l'Equipe:
"José Mourinho? He is but the best coach in the world. Those who still doubt his potential should stop! His record speaks for him, he won trophies everywhere."
"CR7, Messi? I am much younger than them. They have records that I do not have yet. Otherwise I have nothing to envy them."
Note also this move to PSG: "I have never considered leaving Chelsea, I am in this club and I have a lot to do.
It's nice to read that the PSG is interested in me. But it does not disturb me. I know what I have in mind, where I go. Nobody is going to change my mind. The goal is to be the best with Chelsea, and as young as I learned in daily contact with seasoned pros like Lampard , Terry, Cech or Eto'o. I try to draw inspiration from their lives, it makes me grow up."
Thiago Silva is adamant: PSG needs the Belgian prodigy of Chelsea, Eden Hazard to win it all next year. And they say it loud and clear!
"He is a player that I love. Technically, tactically, he is very strong. All the major players are welcome to Paris. In Paris, we need players like Hazard for this project to win everything during the years to come. If he decides to come, the group will welcome him with open arms, as we have been doing for all recruits."
Eden Hazard arrived at Chelsea in 2012 after having proved good at Lille.
He would form a magical offensive line with Edinson Cavani and Zlatan Ibrahimovic.
The Premier League table:
Chelsea: 56 points
Arsenal: 55 points
Manchester City: 54 points
Liverpool: 50 points
Tottenham: 47 points