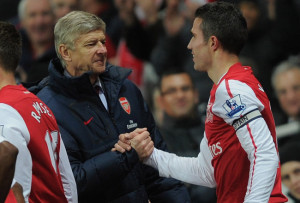 This will undoubtedly surprise fans of Manchester United. And yet this is what the coach of Arsenal intends to do: enjoy the unfitness of Reds to enroll Van Persie back home.
Arsene Wenger, the Arsenal manager dreams of getting Robin Van Persie next summer. Especially if Manchester United set to be welcomed by the Gunners on Wednesday, become unable to earn a spot in the Champions League.
Asked about the issue during a pre-game press conference against the Red Devils, the French coach did not want to hold forth: "Look, I do not think it's a great story today," he said before adding : "I think it is better not to talk about this at the moment. But it is true, Robin Van Persie is a great player. We all know."
7ths in the standings with 41 points, it is unlikely that Manchester United pull their socks for a spot among the Big Four. This perhaps would suit Wenger and Arsenal.