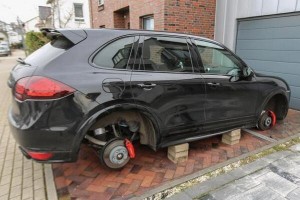 Shaky guests for Robert Lewandowski Monday at his home. Borussia Dortmund striker suffered Sunday night the visit burglars. More fear than harm because thugs have only dealt with the Porsche Cayenne of the Polish.
The least we can say is that they had a good idea of their target. You can see the fireball of the scorer lacking its tires. Surely the thieves were eyeing the chrome wheels of the vehicle.
This should not prevent Robert Lewandowski of Dortmund from continue shining.