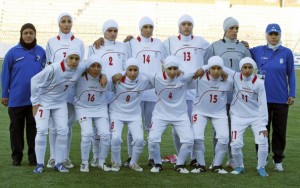 Wolves in the cattle? Some "female players" who revealed being males. They are four in the Iranian women's football team to be suspended from all competitions.
According to British tabloid Mirror which reported the facts later relayed by fr.ria.ru, four players have failed the test of femininity. Considered the best of the team, they proved to be men who had not finished with their sex-change operations. They will be allowed to compete after having undergone all the necessary operations.
"If these people are able to resolve their problems through medical means, they will be allowed to take part in competitions of women's football," said the head of the medical committee of the Iranian Football Federation, Ahmad Hashemian.
The Federation has also decided to require Iranian professional clubs to submit their "future recruits" to gender tests before signing any contract.
A story that reminds us of the Caster Semenya case, the name of the famous South African athlete who's meteoric and performance had left some doubt on the sexual identity of the young woman. These rumors were based on her physical characteristics deemed male: deep voice, imposing muscle, almost flat chest. It took several months to prove the femininity of South African before getting back on the track.