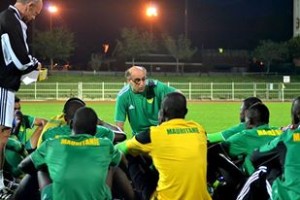 It is official since Wednesday! Mauritania are facing Niger in a friendly match on March 5 as part of the FIFA day friendlies. Shared between the Hawks of Togo and the Mena of Niger, Mourabitounes finally made their choice.
A choice that would have been based on proximity but also especially the desire of Nigerian leaders to play this game since last year after a working session with their Mauritanian counterparts.
Patrice Neveu and his foals, who participated for the first time in a major competition on the continent (CHAN 2014) with honors, even if they have not entered the quarterfinals, they want to stay on the "right path ".
Niger has meanwhile played for the second consecutive time the African Cup of Nations (2012 and 2013), but failed to qualify for the second round.
Togo, eliminated in the quarter -finals of the recent Afcon by Burkina Faso, are then waiting to know their sparring partner of March 05.