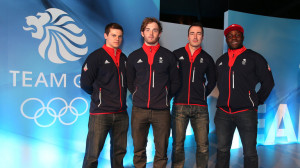 Four-man bobsleigh athlete John Baines has been called upon to compete alongside Lamin Deen in Great Britain's two-man team as Craig Pickering is ruled out of the Sochi 2014 Winter Olympics by a deceiving back injury.
Delighted by this occasional selection, Baines said: "Going to the games has always been my dream and now I'm finally here I can say hard work and determination pays off.
"Training and racing with Craig over the past year has been a honour, and when I race this weekend I will do him proud.
"I have competed in the two-man on World Cup before and achieved top 10 results and feel confident for the weekend."
Team leader Gary Anderson expressed full confidence in the athlete: "I know that John can step up here and has been seeking this chance for some time. He now has the chance to show the world what he is capable of."
Fans of the two-man event set to take place on Sunday and Friday will see Germany's Kevin Kuske defending his title.