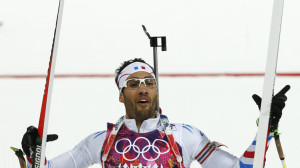 Historical! Martin Fourcade has entered the legend of French sport. Having snatched the gold medal in the biathlon two days ago, the athlete has achieved another feat on Thursday by winning the 20 km. He became the first French to win two titles at the same Winter Olympics since Jean- Claude Killy in 1968. The latter was a triple gold medalist.
"I'm glad as was a bit of suspense. I missed a ball in the second shot, I put my hand on the ground to ski, it is a ' little rock'n'roll. With a fault in the individual, I knew I could win, I was calm. Before the Games, I had nothing to prove to anyone, I came to seek gold for me not for others. But I am happy to share it with everyone. The objective now is the realy, bring a medal home with friends. Of course, I will do my best in the mass -start" he said in the micro of our colleagues from France Television.
Fourcade will have the opportunity to glean a third medal Sunday in the mass-start (15 km) before the two relays next week.