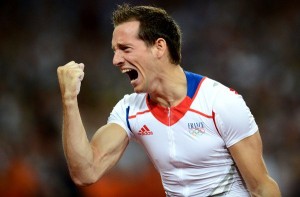 Huge achievement for Lavillenie! The French broke the world record in the pole vault in Donetsk on Saturday, crossing from the first test a bar of 6.16 m. Unheard of in this sport. He succeeds Sergei Bubka who held the world record since February 21, 1993 with 6m15. The latter was present and found himself the wallop that just completed Lavillenie.
The French therefore moved up the hierarchy of pole vaulters after improving the record of 6.04 m with France in Rouen and have set a new personal record of 6.08 m.
"World Record! 6m16 on the first try! It's amazing, I'm still in the air,"said Lavillenie on his twitter account.
Check out the feat Lavillenie on this video:
[dailymotion]http://www.dailymotion.com/video/x1c72pc_pole-vault-donetsk-renaud-lavillenie-at-5-76-m-success_sport[/dailymotion]