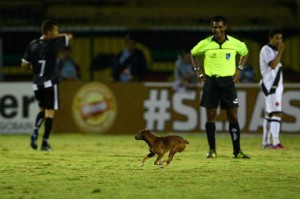 Dogs entering lawns during games, it is not unknown in South America. A few months before the start of the World Cup, Brazil have once again shown the world the atmosphere that in their football.
It is a breathtaking scenario for supporters of Paysandu, club that hosted Remo in the championship of the state of Para, on Sunday. Attacker Ratinho is literally stop in the penalty area by a dog on the lawn of Mangueirao, a stadium which nevertheless has a capacity of 45,000 spectators.
"It is lamentable. In a stadium of this size, with these supporters, such events should not happen," claimed the Remo striker after the meeting that resulted to a goalless draw.
[youtube]http://www.youtube.com/watch?v=uRTXmT7EMFc[/youtube]