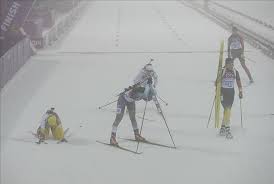 Vladimir Putin wanted to make these Winter Games unforgettable! He had not expected an unwanted guest … the fog!
Since Sunday night, it seems that the sun still has not risen! And 5 present African athletes remained astonished! And they are not alone! This phenomenon seems quite unusual for the continent!
And the weather forecast does not announce any improvement Wednesday, not before!
The snowboard cross men were canceled after several hours of fiddling.
The snow quality has also become much worse: "You have a underground of snow that seems hard and when you want to press it, you sink 20cm due to moisture. This is ensured tumbling. The problem is to make it hold. But everyone makes a mad job to make it a passable track."
Result; there is no possibility to ski!
"The region is located between two disturbances, explains Michel Dalloz, weather specialist at Météo France. Monday, it is a phenomenon of low clouds, normal at this altitude, which drains moisture. This should last all day. And Tuesday, another disturbance is coming with rain in the morning. I'll not be there, but it will be complicated to ski before the beginning of the afternoon. "
To be continued!