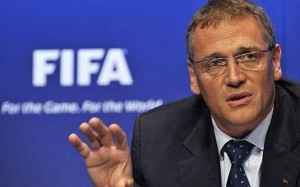 Jérôme Valcke was in Brazil since Saturday. The purpose of the visit of the Secretary General of FIFA is to control three stadiums built for the World Cup which starts in June.
Jérôme Valcke must visit three cities where the venues will host World Cup matches namely Manaus, Brasilia and Porto Alegre. He will be accompanied by Minister of Sports of Brazil, Aldo Rebelo and will evaluate these three stadiums over which two namely the Arena da Amazonia (Manaus) and Beira Rio (Porto Alegre) are still not completed. Brasilia that was used during the Confederations Cup is already operational.
An initial assessment should take place at the end of the week in order to make report on the visit even if another problem occurred this weekend on the Beira Rio Stadium. Still work in prospect for FIFA and Brazil. Will this revive tensions between the two parties?