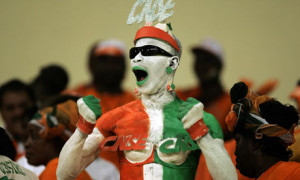 Several Ivorian fans will have to watch the performance of the Elephants of Côte d' Ivoire on their small screens during the 2014 World Cup. Tickets sold by FIFA are not affordable for Ivorians. Only 50 of the 200 supporters announced will be able to join Brazil.
"On the basis of cost and minimum size of 50 people, we are looking for 400 million CFA francs (…) The cost a supporter is eight million CFA francs," said in Xinhua, Parfait Kouass chairman of National Support Committee for Elephants ( CNSE ).
CNSE launches an alarm to trustees so that Côte d'Ivoire, the first football nation in Africa do not get poorly to Brazil for the global event.
"We do not want to be the only supporters not to be with the national team in Brazil," launched Parfait Kouass. Unlike Cote d' Ivoire, the mobilization is to go on the side of Algerian fans. As Africa Top Sports reported earlier, 1300 tickets of the 2000 reserved for Algeria are already sold.
As a reminder, tickets cost on average 80 to 160 Euros (52 000 to 104 000 CFA francs) for group matches and 335 Euros to 753 Euros (220 000 to 495 000 CFA francs) for the final on July13.