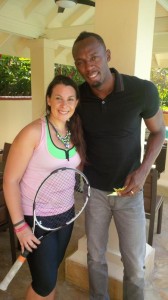 Young retired women tennis star, Marion Bartoli is definitely everywhere because having a lot of projects going at the moment. Passing through Jamaica, she was with Usain Bolt. The latter is also said to be delighted in the company of the French champion.
"Always great to meet an athlete who understands the sacrifices we have to do to become a champion," said Bolt on his twitter account.
Bartoli also met another Jamaican sprint star Yohan Blake.