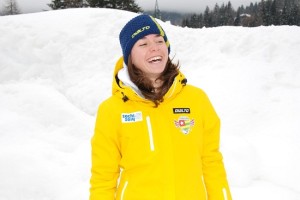 Learning continues for Togolese athletes at the Olympic Winter Games in Sochi. After the 68th spot attained by Mathilde Amivi PetitJean in the 10km classic skiing, the other Togolese representative did not do better on Tuesday during the first round of giant slalom women.
Alessia Afi Dipol ranked 60th in this race held at Rosa Khutor Alpine Centre in Sochi. She realized it with a time of 1:31:66 with a difference of +13.78. Far behind the Slovak Tina Maze who flew over the event ahead of Swedish Jessica Linbdell-Vikarby and Italy's Nadia Fanchini on the podium.
Only 74 of the 100 athletes aligned for the race happened to finish the race. A second round is scheduled around 10am GMT.