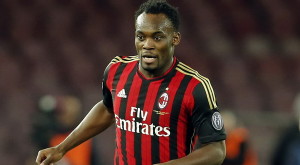 The knockout round of the European Champions League has begun in the most beautiful ways Tuesday with two beautiful encounters between Bayer Leverkusen and PSG (0-4) and between Manchester City and FC Barcelona (0-2). It was then dangerous to play at home for the first night.
Wednesday, two other meetings in the program. The shock Bayern Munich-Arsenal at the Emirates stadium and an equally enticing AC Milan – Atletico Madrid at the San Siro. The latter will then have the opportunity to review Michael Essien on a lawn of the Champions League. The Ghanaian had not been registered by Chelsea but can now enjoy his transfer to the Rossoneri to shine.
Besides the former Lyon, AC Milan can count on the Guinean Kevin Constant in their left hallway and Moroccan Adel Taraabt. The ex-Fulham has been delighting Milan tifosi since his arrival, including a goal on his debut.
Program
19:45 GMT
Arsenal – Bayern Munich
AC Milan, Atletico Madrid