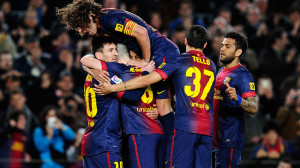 The great Barcelona!
Tuesday night in the Champions League, teams that hosted others were beaten and are unlikely to see the quarterfinals!
Manchester City was humiliated at home by FC Barcelona!
The inescapable Lionel Messi scored the first goal in the 55th minute on a penalty!
Martín Demichelis, the Argentine defender had fouled Messi at the the edge of the penalty box and received a red card. Messi had deceived Hart with a shot in the middle of the goal.
At the end of the match, D. Alves scored the deadly second goal .
Yaya Touré and co took a real slap!
Note that PSG also inflicted a hollow 4-0 loss to Bayer Leverkusen as they were hosted by the German side.
Thought yet Jose Mourinho, coach of Chelsea, foresaw mistakenly the Barcelona team as very weak !
"Obviously, for all that constitutes their history, Barcelona are favorite, but this season, they have shown that they are not the same as in recent years. Despite the presence of Lionel Messi, who is special, City will get a chance, because they'll have to clash the worst Barcelona for many years," he dropped.
Would José Mourinho be shortsighted? In Spain, at the head of Real Madrid (2010-2013), he has not win much …
The foul and the penalty!
[youtube]http://www.youtube.com/watch?v=NGlKu03TEt4[/youtube]