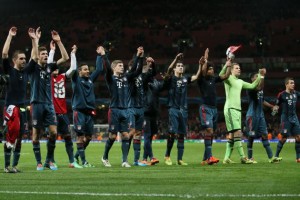 Bayern Munich have knocked Arsenal Wednesday night on a score of 2-0. This increases hope that the current European champion will undoubtedly play the quarter-finals of the Champions League.
Arsenal missed a penalty in the first half time by German Mesut Özil, which will not improve his popularity at its lowest for several weeks…
Hardly had Boateng fouled when Rizzoli whistled the penalty without hesitation. Mesut Özil shot, but Neuer has diverted the ball with the right hand!
[youtube]http://www.youtube.com/watch?v=U7SJyCJE_zw[/youtube]
[youtube]http://www.youtube.com/watch?v=RvPer8oMRus[/youtube]
[dailymotion]http://www.dailymotion.com/video/x1cq47n_arsenal-0-2-bayern-munich-goal-thomas-muller_sport#from=embediframe[/dailymotion]