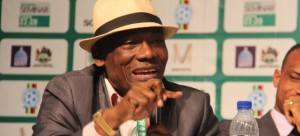 Joseph Antoine Bell did mince words when he was asked to give his viewpoint on the African Nations Championship (CHAN). The Ex Cameroon international is among those who do not see the importance of this competition which saw its 3rd edition competed in January in South Africa with the coronation of Libya.
"Personally, I am against the CHAN. When we speak of excellence, you cannot have two levels. CHAN is for the weak," said the former Lion indomitable at the launch of the 2nd edition of the African Football Night in Abidjan on Tuesday. "CHAN is open to players of the same age as those of Team A who compete in Afcon. And if they are not called in first team is that they are simply not good. Do you think Ivory Coast will send their CHAN team to the World Cup?," he asked.
Bell added: "Organizing CHAN is just like organizing a test for those who have failed. And Africa will never win the World Cup by promoting the bottom. It is not Mauritania who cannot qualify for Afcon who will go to the World Cup."
"It is a football for fun, entertainment. It is not excellence. I hold the same respect for those who play CHAN as well as those practicing football Sundays in Côte d'Ivoire," he concluded.