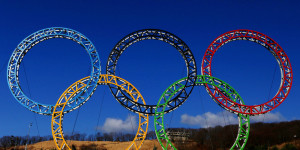 The latest deadly violence in Ukraine affects the Sochi Olympics. Ukrainian athletes have decided to boycott the final moments of games.
If one can rely on Interfax news agency, Bogdana Matsotska alpine skier and coach Oleg Matsotskyy (who is also his father) took the decision to leave the Olympics in Sochi. "In solidarity with the fighters on the barricades in protest against the actions against demonstrators, lack of responsibility of the President and his government lackeys, we refuse to participate in any other competitions of the Olympic Games Sochi 2014 " wrote Oleg Matsotskyy on his Facebook page .
"As members of the National Olympic team of Ukraine, we Bogdana Matsotska and Oleh Matsotskyy – are extremely indignant of recent measures taken by President Viktor Yanukovych, who showered the last hopes of Ukrainians in the blood instead to resolving the conflict through negotiations (that we had hoped when we left for Sochi). It is a violation of the old principle of the Games – the Olympic Truce" added the coach.
Already two other sports refused to compete because of the political situation in Ukraine. "Two Ukrainian cross-country skiers namely Marina Lisogor and Katerina Serdyuk, have not shown up in the semi-finals," reports Le Monde. This morning Reuters agency has also referred to the boycott of Ukrainian athletes without giving the number and identity.
The latest clashes in Kiev caused more than 25 deaths and 241 wounded. Vitali Klischtko, former boxing champion turned politician has condemned the violence. Sergei Bubka, former star of the pole vault and president of the Ukrainian Olympic Committee said he was shocked by the clashes and called for an Olympic Truce.