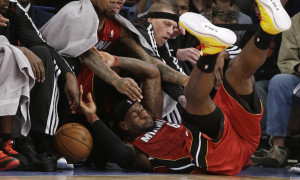 The Heat dominated the Thunder in the night from Thursday to Friday (103-81). But it is a bitter victory for LeBron James. He contracted a nasty injury to the nose. This arises concern for his participation in Sunday's game.
The superstar of Miami slammed a big dunk on Serge Ibaka attempting to counter, but the hand of the Spaniard missed the ball to end up on the nose of James.
Consequence: a broken nose for LeBron and uncertainty on his participation in Sunday's game against the Chicago Bulls.
But the "Chosen One" could wear a protective mask and participate in this meeting.
[youtube]http://www.youtube.com/watch?v=-df2OIDcO80[/youtube]