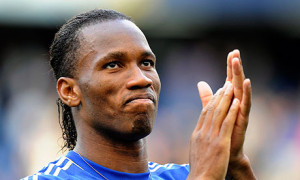 Didier Drogba will return to Chelsea. We're not talking about the next meeting pitting Galatasaray to the Blues in the framework of the second round of the Champions League, no. The Ivorian international, great actor of the arrival of Eden Hazard in London, will make his return to England next season, but in a very unexpected role.
Under contract with the Turkish club until the end of the season, the 35 -year-old, who played with the Blues between 2004 and 2012 and left an indelible memory in the British capital, will return to Stamford Bridge next season. Not as a player, but as a member of the technical staff. This is what says the Daily Mirror indicating that the Russian owner of Chelsea, Roman Abramovich would like the center forward of the Elephants of Côte d' Ivoire to participate in the development of the club by taking care of the academy.
The prospect of joining the Chelsea project would probably not displease Drogba. His work will be facilitated by the presence of Jose Mourinho, coach of the Blues. The two men who have rubbed shoulders for three years in London, know each other by heart.
But the question remains whether Drogba will accept this challenge. He who does not seem to hang up the spike so soon. The future will tell. In the meantime, he will receive his heart club next week in the knockout round of the UEFA Champions League.