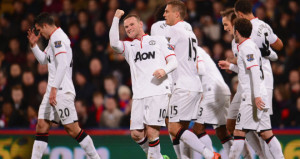 Manchester United are back into the direction of wins. After 3 games without success in the Premier League, the Red Devils have emerged 2-0 against Crystal Palace on Saturday. In a tough game we have to wait until the money to see David Moyes's men taking the lead thanks to a penalty converted by Robin Van Persie.
At the rear, Wayne Rooney well served by Evra sends a volley whipped in Eagles' cages. A good way to celebrate his new 5-year and a half contract with Manchester United that should bring him 19 million Euros per year.
United will face Tuesday in the knockouts of the Champions League, Olympiacos.
A best of his best goals!
[youtube]http://www.youtube.com/watch?v=3S_I7-nevDk[/youtube]