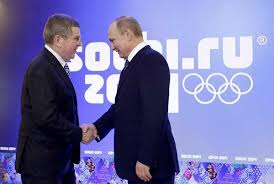 Sochi Olympic Winter Games, which began on February 7, end up Sunday. And for its traditional press conference held this last day, the president of the International Olympic Committee (IOC), Thomas Bach, gave an initial assessment. A report that is "very positive" after two weeks of competition.
"If you talk with the athletes, National Olympic Committees, national federations, sponsors and broadcasters, you will hear a lot of praise," said the boss of the instance.
The conditions under which the tests were conducted, is another aspect that sits well with Thomas Bach.
"I 'm not surprised by the warm welcome of the Russians. When I was an athlete, I have always been welcomed here. Russians love sports," he testified .
The press conference was an opportunity for him to throw flowers on Vladimir Putin and his government.
"Mr. Putin and his government played a very important role in the organization of the Games. If it had not been the case, it would probably have not been a success. Without him, this great success would not have been possible. He has fully complied with the Olympic Charter. Not one time, I remember seeing exceeding the limit."
That may not appeal to Westerners too, because Putin has indeed benefited from the competition.